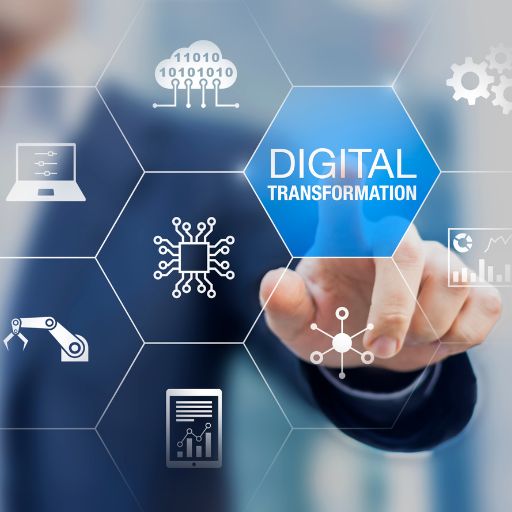 Digital directions is an emerging online publication about digital transformation.
We cover fundamental concepts and technology, along with insights, guides and opportunities for business professionals.
Digital Transformation involves leveraging technology to disrupt legacy business models, improve customer service, deliver true business value and create competitive advantage.
If done correctly, it can open up new revenue streams, dramatically reduce costs, improve your workflow and operational efficiency, increase employee satisfaction, build new levels of customer loyalty, and create a flexible and scalable digital framework for future growth. 
But the concept of digital transformation can seem confusing and overwhelming, especially for companies that have relied on legacy systems and processes for years and are hesitant to embark on a broad (and often expensive) transformation program.
That's why companies of all sizes and across different sectors are approaching digital transformation at different stages of their digital maturity: from embracing simple SaaS solutions for their CRM or adopting a basic cloud storage strategy, to leveraging AI for internal processes and developing IoT products to unlock tremendous business value.
No matter where you are in the Digital Transformation continuum, or even if you're completely new to the concept, our goal at Digital Directions is to help you with this journey by providing a go-to online resource, focusing on:
Digital Transformation Fundamentals
Many companies are still not clear on the definition of digital transformation and struggle to understand how it differs from digitization, digital adoption, change management, and other corporate concepts and misused buzzwords. 
They also may struggle to define a realistic transformation strategy or set clear goals and KPIs for their team.
With this in mind, we are developing content to help demystify the true meaning of digital transformation for different industries. We'll also focus on how to begin the process, formulate a strategy and develop a roadmap with clear value-based goals. 
Digital Transformation Technologies
What are the technologies driving digital transformation? While adopting a transformation strategy is about more than just technology, the digital components are obviously fundamental to the process.
We'll be exploring the many types of digital concepts and terminology that come into play at different stages of digital transformation, including:
CRMs, project management tools, resource management software, and different productivity tools
Cloud technology and as-a-service options (IaaS, PaaS, SaaS), low-code and no-code development platforms, Data analytics, and related tools
Artificial Intelligence (AI), Internet of Things (IoT), Digital Twin, Machine Learning, Robotic Process Automation (RPA), and much more.
Career Opportunities in Digital Transformation
Finally, as the digital transformation market has evolved, so has the need for skilled professionals to oversee and execute the many aspects of the overall process. 
Digital transformation professionals bring a unique combined skill set that includes both technical and business acumen. And they will play an integral role in helping companies execute DX strategies and uncover real business value. 
In fact, as this HBR article notes, a successful DX strategy depends more on talent than technology. 
Many companies, from emerging startups to established public corporations, are seeking talent to fill these in-demand roles, from DX outside consultants to in-house specialists, managers, and a litany of related job functions that require specific technical expertise.
Our goal is to help companies and job seekers understand the DX career landscape with descriptions of job roles and functions, skills-related content, and specific job postings from top companies across different industries.
Our Origins
Digital Directions has been an online resource focused on emerging trends in digital technology since 1999.
Originally as a course platform for learning about digital imaging concepts for business professionals, then serving as an online platform for IT professionals interested in the emerging digital economy (including coverage of digital transformation, Industry 4.0, digital governance, smart grid solutions, and IT skill development).
Now, in this new iteration of the website, Digital Directions continues its mission as a tech and business resource focused on Digital Transformation and related topics.
Digital Directions is independently owned and operated by AFH Media LLC, a web solutions provider with significant experience developing and growing informational online platforms and scaling digital strategies in the B2B industry. 
If you have any questions, please feel free to reach out to us at hello [at] digitaldirections.com.