As the world becomes increasingly digital, businesses are realizing that they need to transform the way they operate in order to stay competitive. This is especially true in the HR department, where outdated processes can mean a loss of efficiency and productivity.
In this article, we will explore some of the ways that digital transformation can improve HR operations.
Table of Contents
What is HR Digital Transformation?
Before we look at specific examples of how digital transformation is affecting human resources, let's first define what we mean by the term.
At its most basic, digital transformation is the process of using technology to improve business operations. This can include anything from automating processes to adopting new software to improve communication.
In the context of human resources, digital transformation refers to the use of technology to streamline HR operations. This can involve anything from automating HR processes and migrating to cloud-based applications, to using predictive and diagnostic data analytics to improve recruiting efforts.
HR executives should use digital transformation projects as a way to enhance employees' ability to adopt new tools that contribute to employee productivity, enhance employees' experiences and advance the company's growth.

Source
Digital transformation is not just about adopting new technology, however. It's also about changing the way that businesses operate. This means that businesses need to be willing to change their organizational structures and the way they work in order to take advantage of new technologies.
For HR professionals, this means that businesses need to be willing to change the way they recruit, train, and manage employees. They also need to be open to new ways of measuring employee performance.
The following examples will illustrate how HR departments are harnessing new technology to move in this direction.
How Digital Transformation is Impacting HR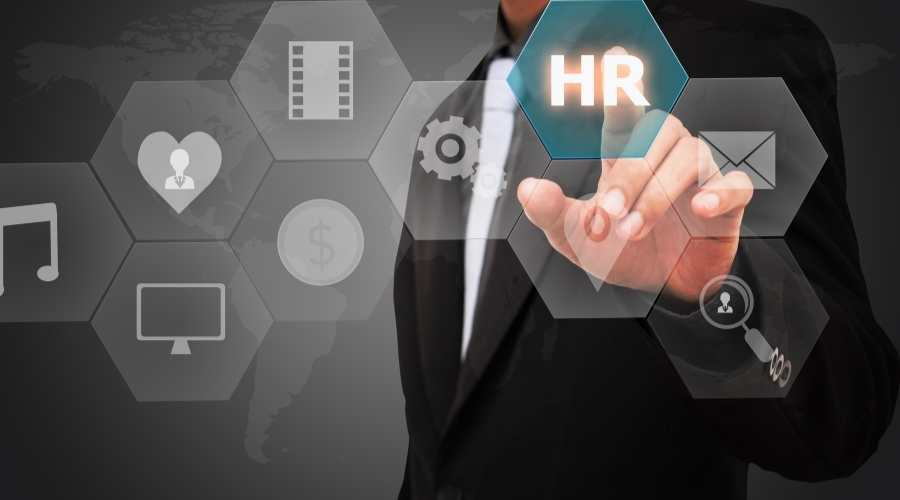 1. The Rise of AI
One of the most significant digital transformation HR trends is the rise of artificial intelligence (AI).
AI is being used in a number of different ways within the HR field, including for recruiting, performance management, and employee retention.
Additionally, AI is being used to create "chatbots" that can answer employee questions and provide support.
In fact, as noted here, AI-driven assistance, planning, and skill-development tools can be used to support the entire talent lifecycle: attract, hire, engage, retain, develop, grow and serve.
2. The Shift to Remote Work
Another digital transformation HR trend that is becoming increasingly popular, especially in a post-COVID-19 environment, is the shift to remote work.
With advances in technology, more and more employees are able to work from home or other remote locations.
This trend has a number of benefits, including increased productivity and decreased overhead costs.
In fact, this Gartner article mentions Hybrid Work as the number one future of work trend, with "75% of hybrid or remote knowledge workers agreeing their expectations for working flexibly have increased."
3. The Use of Big Data
Another trend that is being driven by digital transformation is the use of big data. HR professionals are using big data to gain insights into employee behavior and to identify trends.
For example, using data analytics in HR (also known as Workforce Analytics, HR Analytics, Talent Analytics, or People Analytics) can help you predict staff turnover, understand the impact of diversity on your workforce, or improve your employee retention rate.
With access to more data, companies can create predictive models to assess performance in a hybrid work environment and even predict future attrition rates and forecast retention spikes.
According to a recent study of IT executives at 250 midsized and large companies, 71 percent had implemented data visualization tools and 63 percent have implemented data management tools.
4. The Emergence of New Job Roles
As digital transformation continues to reshape the HR landscape, new job roles are emerging.
Some of the new roles that are being created include digital transformation specialists, managers and consultants, along with chief data officers, chief talent officers, and chief human resources information officers.
These new roles are necessary to help organizations create DX roadmaps, assemble and lead teams with disparate digital skill sets, implement new technology at different stages of the transformation, and track important digital transformation KPIs to keep projects moving in the right direction.
5. The Increase in Employee Self-Service
One of the most convenient aspects of digital transformation for employees is the increase in self-service options.
For example, employees and new hires can now complete a variety of HR processes online, including benefits enrollment, time off requests, updating personal information, accessing paystubs and W-2 forms, viewing training and development options, completing performance reviews, and finding and pursuing advancement opportunities.
This trend saves employees time and makes it easier for them to get the information they need.
Plus, implementing a suite of self-service tools can increase employee engagement, which can lead to a more efficient and productive workforce.
6. The Implementation of Gamification
Gamification is another digital transformation HR trend that is gaining popularity.
Gamification involves using game mechanics to motivate employees and encourage specific behaviors. And, like self-service tools, gamification is a great way to improve employee engagement.
For example, an organization might use gamification to encourage employees to complete their onboarding process or to participate in training programs, offering encouraging feedback and fun "recognition awards" to track progress along the way.
7. The Adoption of Mobile Technology
Mobile technology is another area where digital transformation is having a major impact on HR.
A growing number of self-service HR applications are being developed for mobile devices, making it easier for employees to access their HR information on the go.
Additionally, many organizations are using mobile technology for things like tracking employee time and managing payroll processes.
In fact, most HR functions will benefit from adopting some form of mobile technology, including training, gamification, benefits management, onboarding, and more.
8. The Use of Robotics in HR
We've mentioned how robotics process automation (RPA) can help small businesses, but RPA has numerous benefits when applied to HR tasks for companies of all sizes.
In fact, RPA is already used in HR to automate a number of manual tasks for recruiting (i.e. sending responses to job candidates), onboarding, performance management, and benefits administration.
Note: While many people fear the notion of automation in HR, it should be clarified that RPA doesn't mean these jobs will be replaced by robotics.
Instead, RPA tools are focused on automating common tasks within existing workflows to make processes more efficient and improve employee productivity.
9. Social Media in Recruiting
Social media is another area where digital transformation is having an impact in HR. A growing number of organizations are using social media for recruiting purposes.
In fact, some studies show as much as 96% of recruitment teams already use social media for recruitment.
LinkedIn is a popular platform for recruiting, as it allows a more transparent way for companies to connect with candidates and learn about their credentials.
Platforms like LinkedIn and Facebook can also leverage their extensive user data to deliver personalized job recommendations and surface relevant career opportunities alongside daily social media feeds.
10. Personalized Training Opportunities
Digital transformation has also led to the rise of personalized training opportunities. With advances in technology, organizations are now able to create customized e-learning experiences for their employees.
This trend is beneficial for both employees and employers, as it allows employees to receive training that is relevant to their individual needs and helps organizations improve their overall performance.
For example, with bite-sized personalized learning segments (aka "micro-learning"), employers can design short courses that employees can complete at their own pace and on their own time with quizzes, podcasts, videos, games, infographics, and more.
11. Employee Onboarding
Finally, one big advantage of new digital tools is the ability to streamline the onboarding process.
Organizations are now able to use technology to provide new employees with all of the information they need to get started, and employees can access this information from any device.
Additionally, digital onboarding tools can be used to track an employee's progress and ensure that they are completing all of the necessary tasks.
For example, with digital tools like Freshteam, you can improve (and speed up) the onboarding process for new hires by sending thank you letters, confirming start dates with team members, preparing paperwork, sending reminders, coordinating introductory meetings and training, and more.
How can HR Support Digital Transformation?
While these trends affect HR, it's also important to consider how HR can support digital transformation within an organization.
HR professionals play a vital role in helping organizations adopt new technologies and processes. Additionally, HR can help to create a culture that is supportive of change and open to new ideas.
By staying up-to-date on the latest digital transformation HR trends, HR professionals can be better prepared to support organizations across different industries through the process of digital transformation.
Digital Transformation is Changing the HR Landscape
As you can see, digital transformation is having a major impact on the HR landscape. A variety of new technologies are being adopted, and new job roles are being created.
These changes are necessary to keep up with the ever-changing landscape.
Digital transformation is sure to continue to reshape the HR landscape in the years to come. Are you prepared for the changes?